Choosing the right tools to help you streamline your operations for your small business can be a challenge—not to mention an expensive one.
In this article, we will discuss the best tools for small businesses to help solopreneurs, micro businesses, and even mid-sized corporations in the Philippines move to the next level. Read on.
What are Business Tools?
Business tools are any resource that can help you improve your business marketing, operations, financials, and more. They streamline your operations and help you operate online. This is especially helpful given more companies are starting to move towards digital forms of operations.
In recent times, more and more online business tools have become more popular as businesses leverage digital software and services to improve their business. One study shows that 70% of businesses have intensified digital software use since the pandemic.
Benefits of Using Business Tools for Small Businesses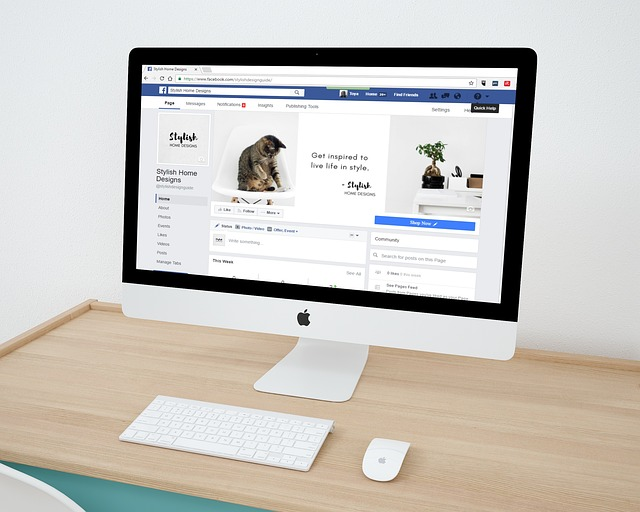 Knowing how to leverage the right tools and automation can benefit your business in a lot of ways and will give you a competitive advantage over your larger competitors.
Let's put these benefits into perspective for a small business that might need these business tools.
Streamline Business Operations
Streamlining your business operations is easier when you have the right set of business management tools to automate repetitive tasks like taking in orders, onboarding clients, scheduling appointments, managing social media, and more.
For businesses to operate more efficiently, you'll need the right business tools.
Save Money and Time
Access to highly-efficient tools can help you save time and resources while reinforcing productivity in your workplace.
Business tools can help you cut down on expenses by reducing the need for additional staff and availing of unnecessary external services.
Efficiency and Accuracy
Business tools accomplish tasks with efficiency and accuracy by automating repetitive tasks and help eliminate human errors caused by manual systems.
Automation is also capable of delivering accurate data analytics & insights that you can use to make informed decisions for your business in the future. More of it later.
Improved Customer Experience
Providing an exceptional customer service experience is vital for every business.
Business tools and automation quickly achieve this by using autoresponders and chatbots. Enabling more businesses to provide fast and high-quality responses.
These are CRM tools that specialize in customer relationships. It saves your customers' progress in a secured database, making it easier for you to track your customers' progress in your funnel.
10 Best Business Tools You Need to Know in 2023
As promised, here are the 10 Best Business Tools You Need to Know in 2023 that you can leverage immediately to level up your business this year.
Nextpay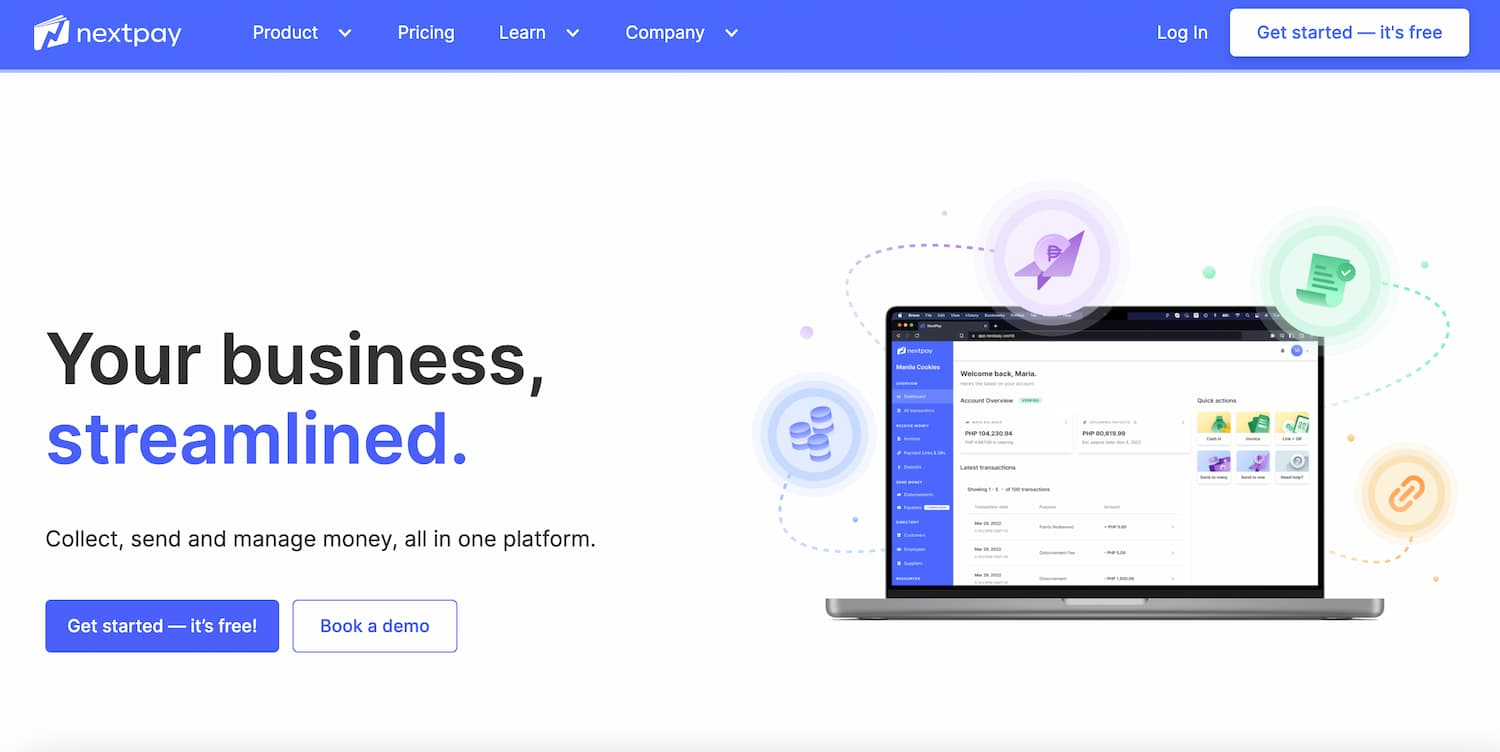 Link: nextpay.world
Trusted by over 4,200+ local enterprises, Nextpay is one the best all-in-one financial platform for small businesses in the Philippines.
Nextpay made collecting and sending invoices and payments in batches, managing your finances, and tracking your expenditures easier and simpler on a single dashboard without compromise.
When we first started using NextPay, it was obvious that it would help us streamline so many of our business banking needs. It acts as an all-in-one online banking app for our business finance needs, including:
Payroll disbursement to our team
Invoicing
Paying suppliers
And more!
Their goal is to provide a fast and inexpensive finance management tool that's both accessible and user-friendly for all. And the best part is that you can access it on any device as the whole site works well on any screen size.
Plus, setting up a Nextpay account and managing finances with their platform is free of charge. You only pay per transfer, so you can save a lot of money over the short to long term.
Here's a list of services Nextpay offers that might help you:
Payment disbursement. We use NextPay to pay salaries, invoices, and suppliers on the go. This great tool for small businesses lets you disburse to virtually all banks, Gcash, Paymaya, and more.
Tracking tool. The tool also helps you manage and track every Peso with ease and accuracy with analytics and downloadable reports & summaries.
Company Directory. Save important information, like employee details, bank account details, and suppliers in one secure directory
Team roles. Assign different levels of access to members of your team for a boost in productivity
Corporate cards (beta). Manage and track the spending of different teams and departments of your business
Paymongo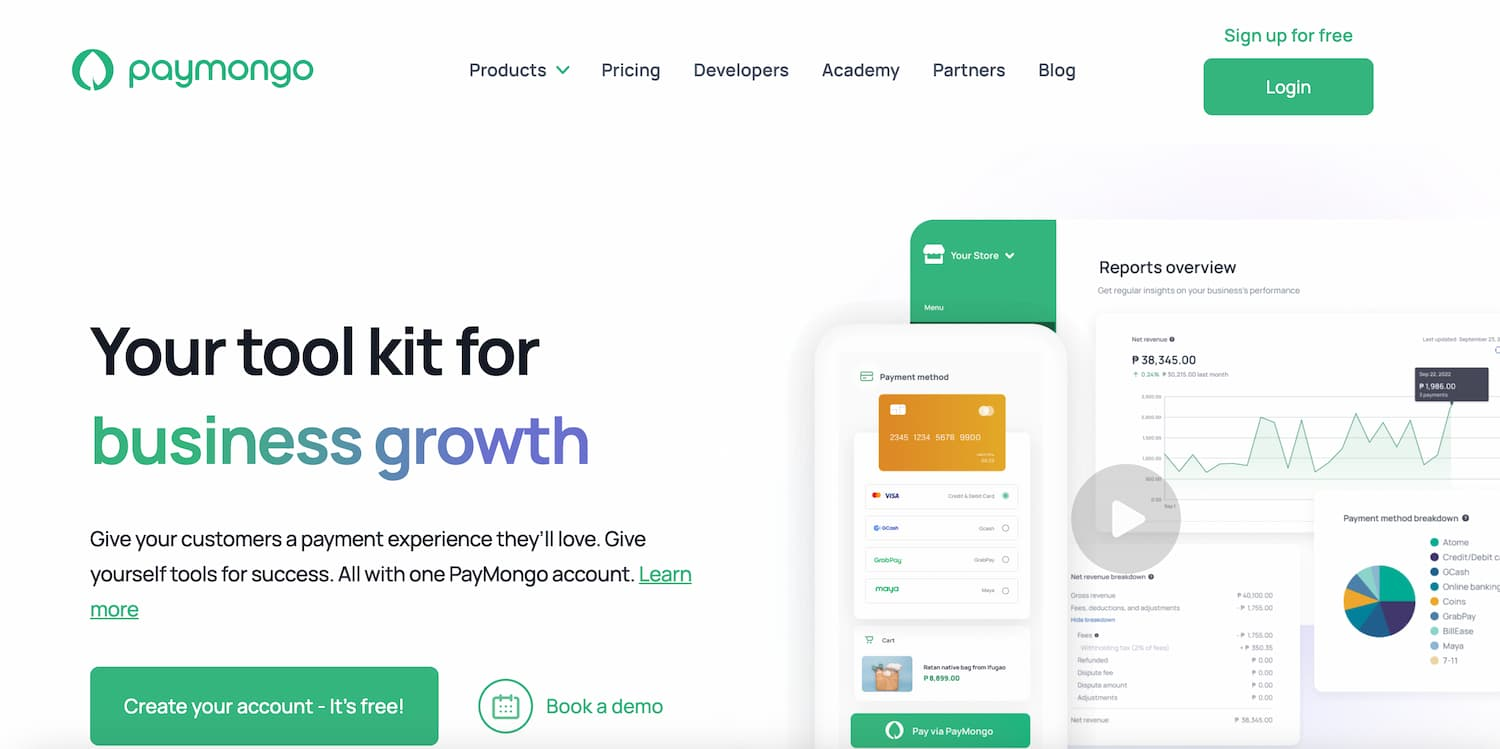 Link: paymongo.com
Hails as one of the best payment processing platforms in the Philippines, PayMongo aims to help businesses grow and succeed by offering a convenient and cost-effective way to process secure online payments.
Paymongo also provides financial management tools and a dashboard that keeps track of all your business' real-time insights.
This platform is most popular among small and medium-sized businesses in the Philippines as it caters to both registered and unregistered businesses all over the country. Setting up a PayMongo account is free.
Here's a list of features PayMongo offers that you can implement:
Payment Links. These links are one-time payment collections sent via SMS, chat, or email
Pages. These are customizable, always-on payment pages for your product or service
API. Directly integrates into your website so that your customer can process their payments then and there. Integrating APIs into your system may require a developer's expertise to be achieved
Plugins. Plugs directly to your Shopify, PrestaShop, Magento, and other eCommerce websites and/or accounts. It's plug-and-play and requires little to no developer expertise for integrations
Shopify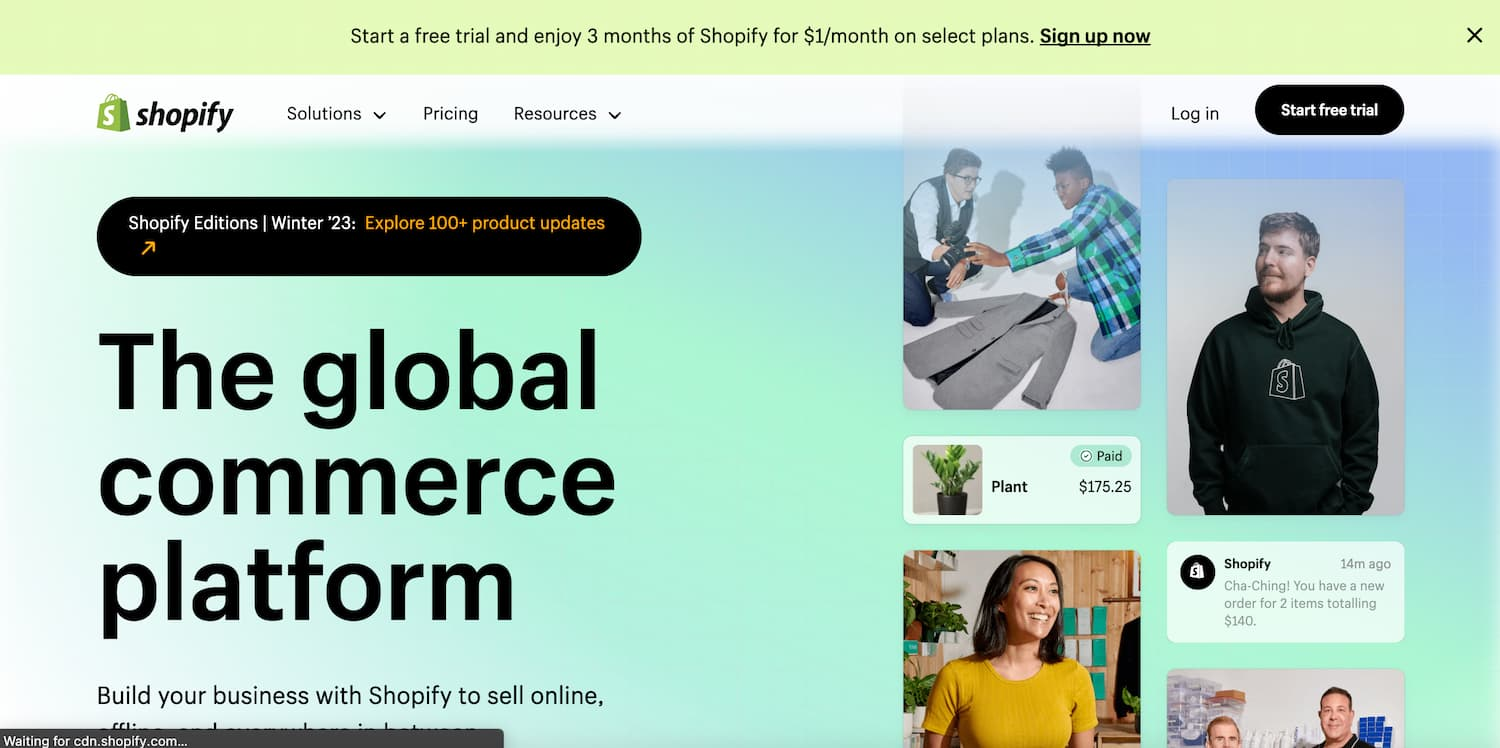 Link: shopify.com
Best known for its user-friendly approach to startup eCommerce and dropshipping businesses. Shopify remains one of the best tools for small business owners both based in the Philippines and worldwide.
Shopify is a subscription-based eCommerce platform that allows you to set up and customize their online store to sell products. Shopify gives you the freedom to manage your business virtually and effectively with an analytics dashboard, optional plugins, and tools that you might find useful for your success.
Trivia: Did you know that you can sell services on Shopify? Learn more if you click here.
Here's a list of features Shopify offers that you can use:
Over 70+ top-notch & customizable themes for your storefront
Free 256-bit SSL certificate for your security
Easy-to-use dropshipping integrations
Automated store e-mails blasts for lead generation, nurture, and email marketing
User-friendly inventory management tools
Unlimited hosting bandwidth
Dashboard for analytics
Shopify App for your mobile devices
Spenmo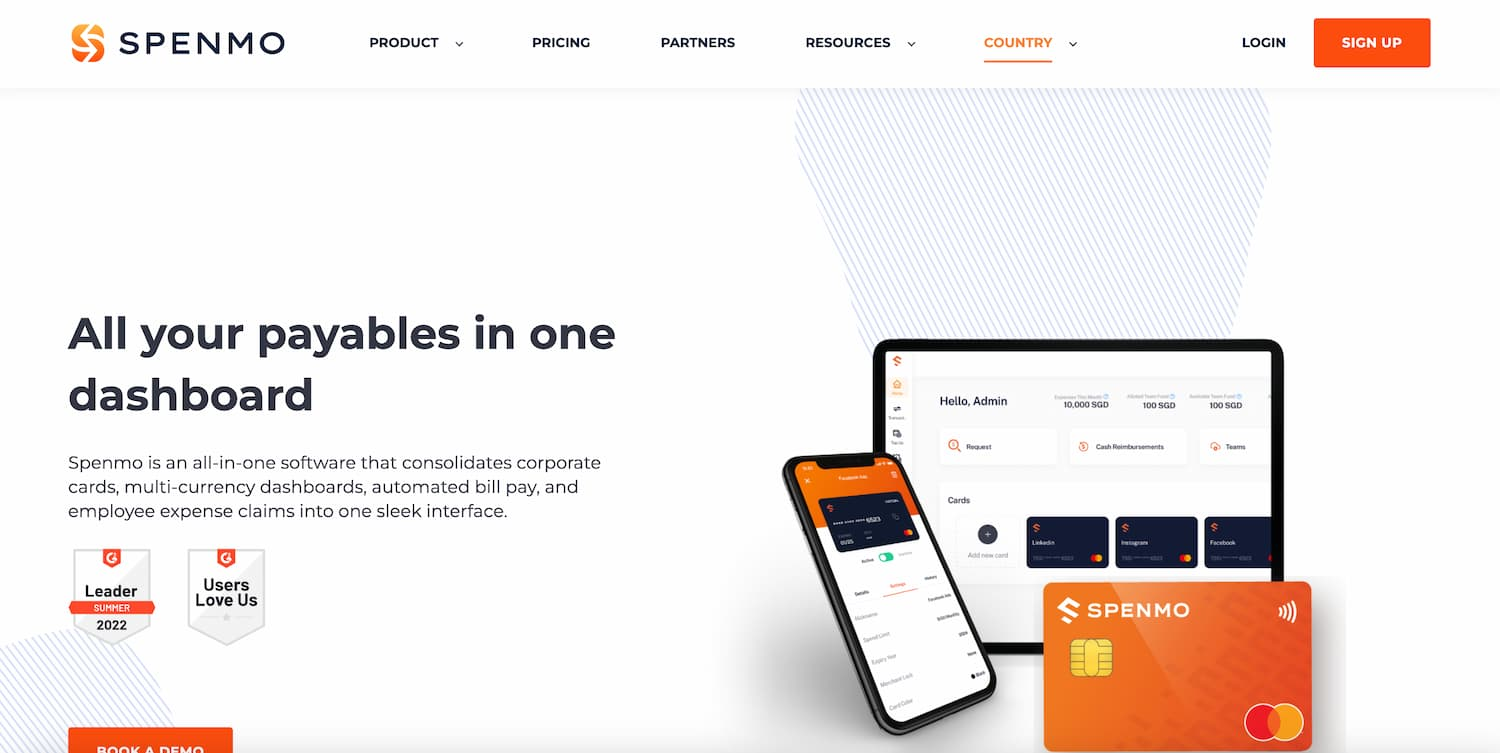 Link: spenmo.com
It's a wallet and an accountant at the same time. Spenmo compiles your corporate cards, multi-currency dashboards, automated bill pay, and employee expense claims into one smart interface that can do it all.
Spenmo also helps control overspending, fraud, and violation of regulations for your business.
Here's a list of features Spenmo offers that you can use:
Corporate and Virtual Cards. Unlimited physical and virtual cards for secure local and international payments
Bills Payment. Faster and simpler payment transactions in just 2 steps
Employee Reimbursement. Seamless employee expense claims, which allows reimbursement claims in 3 easy steps
Accounting Reconciliation. Syncs with your existing accounting systems such as Xero Advanced Integration, and Jurnal
WordPress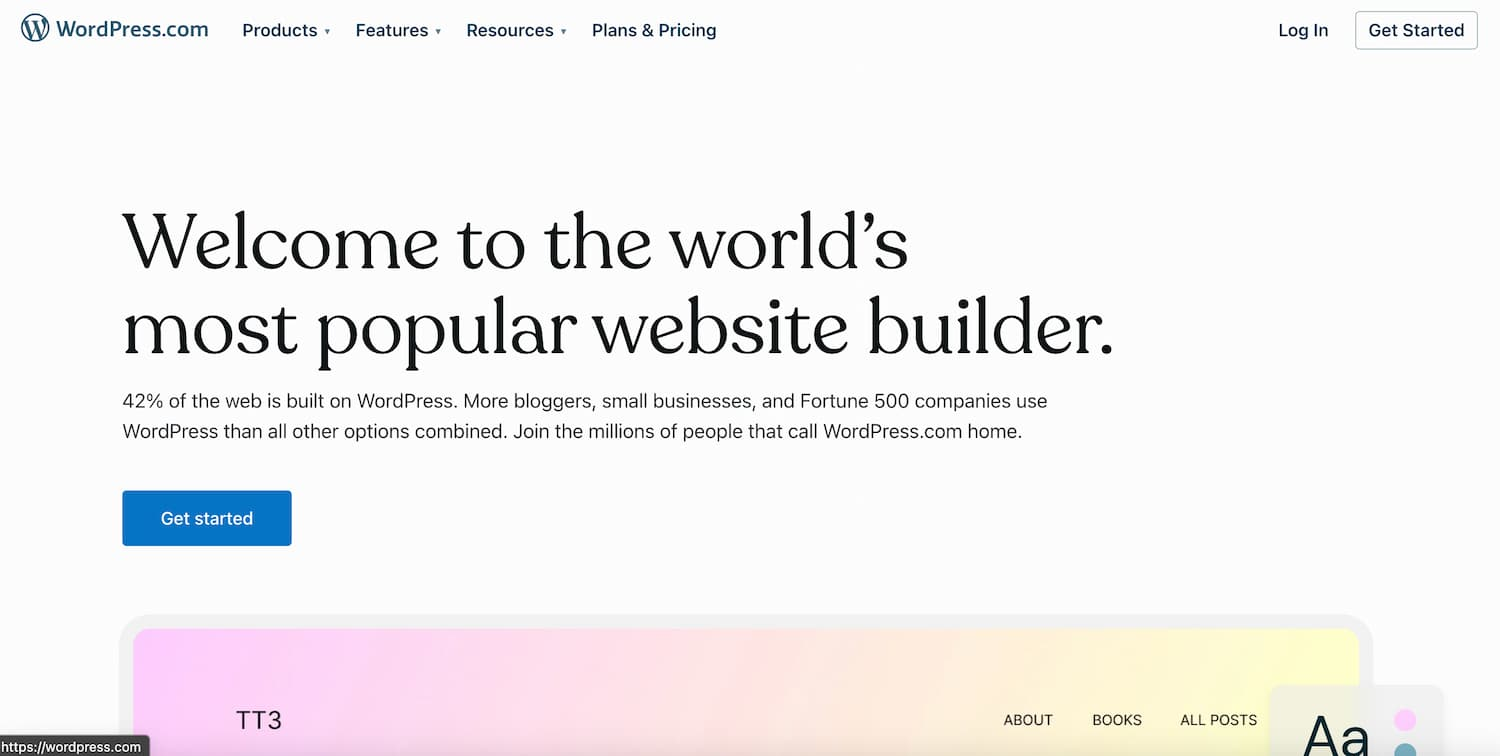 Link: wordpress.com
One effective way to grow your small business is to have a website or a blog.
Write blogs about relevant topics to your products or your expertise that can help your readers identify themselves with you. This way, you can establish your authority as an expert which can help you generate more leads, establish rapport, and build a strong connection with the right audience.
The easiest way to build a website or a blog is by using an open-source content management system (CMS) like WordPress. CMS tools allow users to create, manage, and modify the content on their websites with minimal to zero coding experience.
WordPress is free to use as software, but as a business owner, you'll likely benefit more from a paid plan. Depending on which paid plan you're availing of, WordPress will include web hosting, customizable premium themes, and plugins to help you grow your business successfully.
Here's a list of benefits a WordPress website can do for your small business:
Having a WordPress website can help small business owners increase flexibility, control, branding, and credibility
WordPress blogs and articles can help you establish authority, thought leadership, and expertise on a topic
Having a clean and appropriate-looking WordPress website will give your business good impressions
A WordPress website can serve as your online store and portfolio
Continuous audience reach and traffic due to 24/7 website access
Access to lead insights to keep track of your audiences' behavior on your WordPress website
HubSpot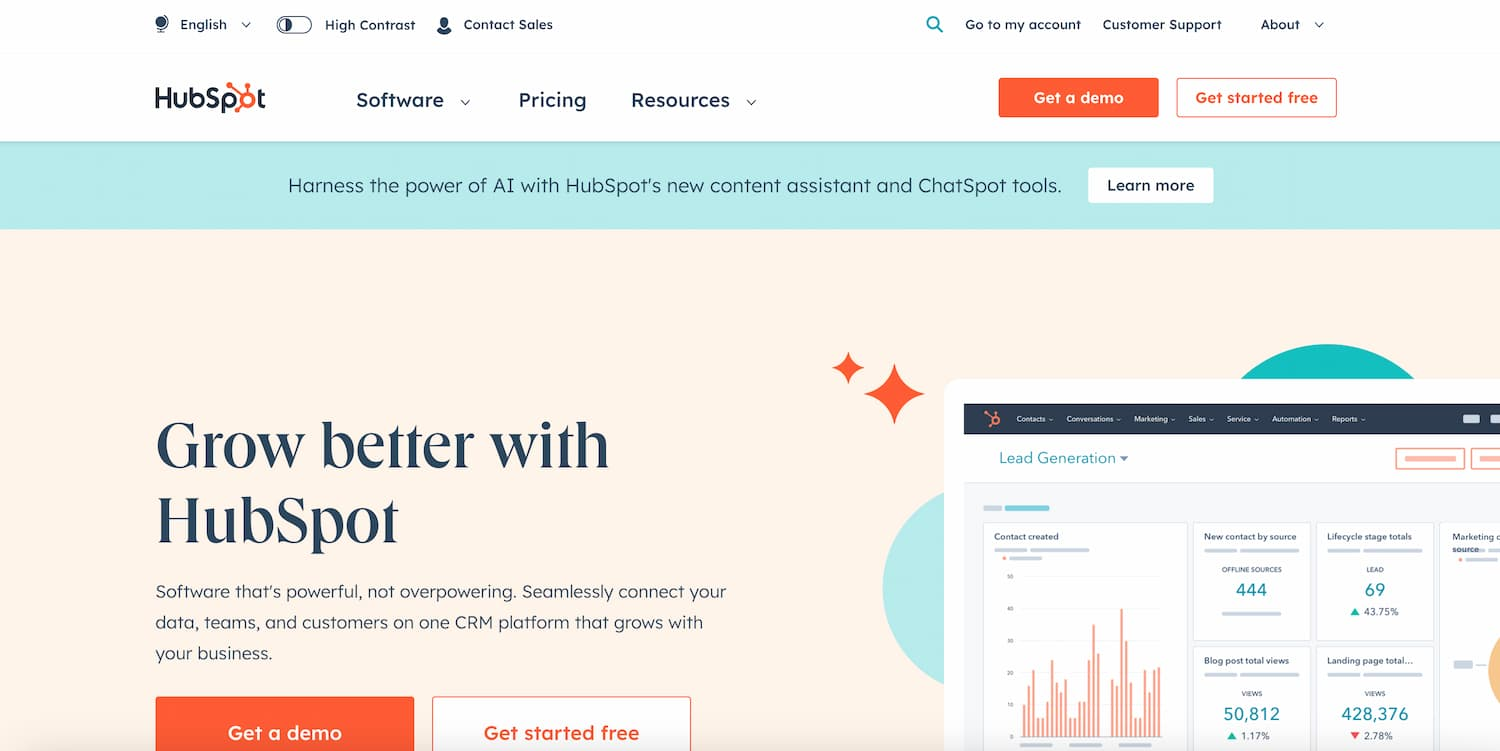 Link: hubspot.com
The secret to every successful business is to make your customers happy. By integrating a CRM tool into your business, replicating that good relationship with leads and new customers is much easier to achieve.
The ultimate goals of every customer relationship management tool are simple:
Keep a healthy relationship with leads and customers
Convert leads into new customers while retaining old customers loyal simultaneously; and
Save you more time and money
Hubspot wins at this. That's why we like using HubSpot for many of our client marketing activities. We also use HubSpot for basic CRM management in Block Ten Strategy. We really like HubSpot Meetings, for instance, as it provides a free alternative to Calendly.
Hubspot has a CRM tool, an email marketing platform, a customer ticketing system, and other necessary tools to help you streamline your processes with a single tool directory.
Hubspot's CRM tool is easy to use. It's their product's USP: Easy-to-navigate tools yield satisfied business owners.
Here's a list of possible inclusions in Hubspot's CRM services:
Email Marketing Platform
Customer Ticketing System
Sales Pipeline Management
Marketing automation
Analytics and Reporting
Notion
Link: notion.so
Notion App is an all-in-one tool for managing projects, team collaboration, communication, project tracking, note-taking, and personalization.
While Notion is a massive tool with many use cases, it's also one of the most popular project management tools for businesses. That's because you can customize it to fit your small business team's needs and project management preferences.
Our agency can attest to how well Notion handles operations and improved our internal collaboration within the organization. This tool gives teams a shared dashboard of progress, tracking deliverables, and KPIs. Matter of fact, it's our personal favorite when it comes to project management.
Personal Notion accounts with basic features are free to use. Advanced tools in the Notion App are accessible via paid plans. You can check the detailed pricing and benefits of paid plans on their website.
Here's a list of useful features in the Notion App that you might want to take advantage of:
Kanban boards. Create custom visual task boards to match the team's workflow. This feature enables users to move tasks from one stage to another, add notes, and attach files.
Team collaboration. Share notes, files, and feedback with team members in real-time. Maximizing the use of comments, feedback, or suggestions can help boost productivity.
Templates. Notion App's library of templates can save time and provide a starting point for teams.
To-do lists. This feature allows users to arrange tasks by importance or deadline. You can also check collaborators' progress using this feature.
Calendars. Keep track of your deadlines, milestones, and other important events. Notion App allows its users to create and share dedicated calendars with team members to help assign tasks and set reminders.
Personalization. Creating custom workspaces in Notion App allows room for creativity. Add different layouts and widgets to any project to help you organize your thoughts and strategic planning.
Taxumo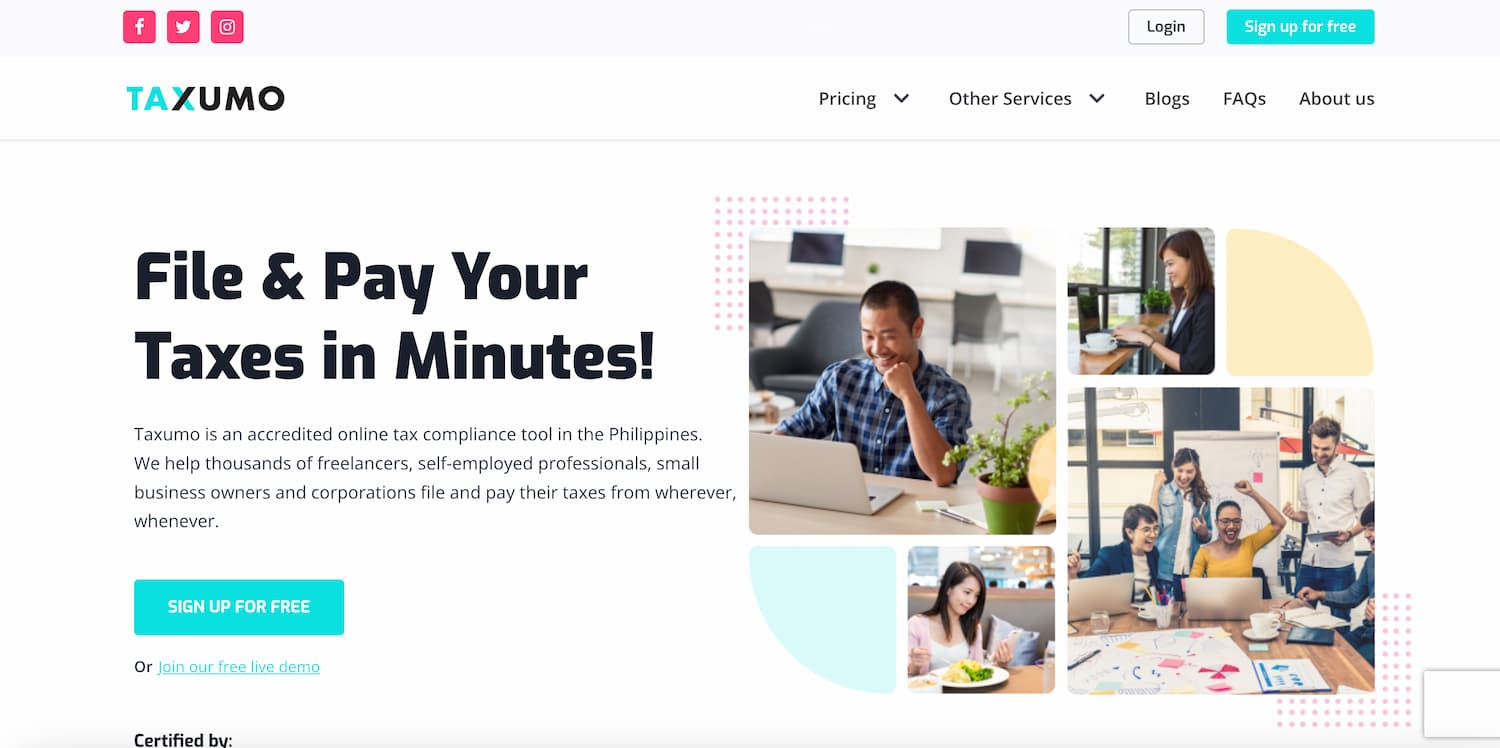 Link: taxumo.com
Aside from being time-consuming, paying your taxes could also be tedious and confusing without the right tools. Fortunately, automation for these monotonous tasks exists to make our lives easier.
For tax processing, we highly recommend Taxumo. It's also a tool we use to pay taxes (yep, we're an online business that pays taxes.)
Taxumo is an accredited online tax compliance tool that simplifies and speeds up the process of filing, managing, and paying your taxes in the Philippines with ease.
Here's a list of benefits Taxumo can do to help your small business:
Multiple payment channels, including PayPal, GCash, Maya, DragonPay, GrabPay, and bank transfer
24/7 access to your account
Instantly generates accurately filled-out compliance forms
Auto-generates QAP, SAWT, and SLSP/VAT relief attachments for each tax filing
Responsive Web App that works on phone and tablet interface
Taxumo eliminates "tax bill shock" by updating the user on his tax dues in real-time
Up-to-date tax reminders to help ensure users meet payment deadlines
Exceptional customer support via email, phone, and live chat
Flexible pricing plans for every unique user's unique needs
Later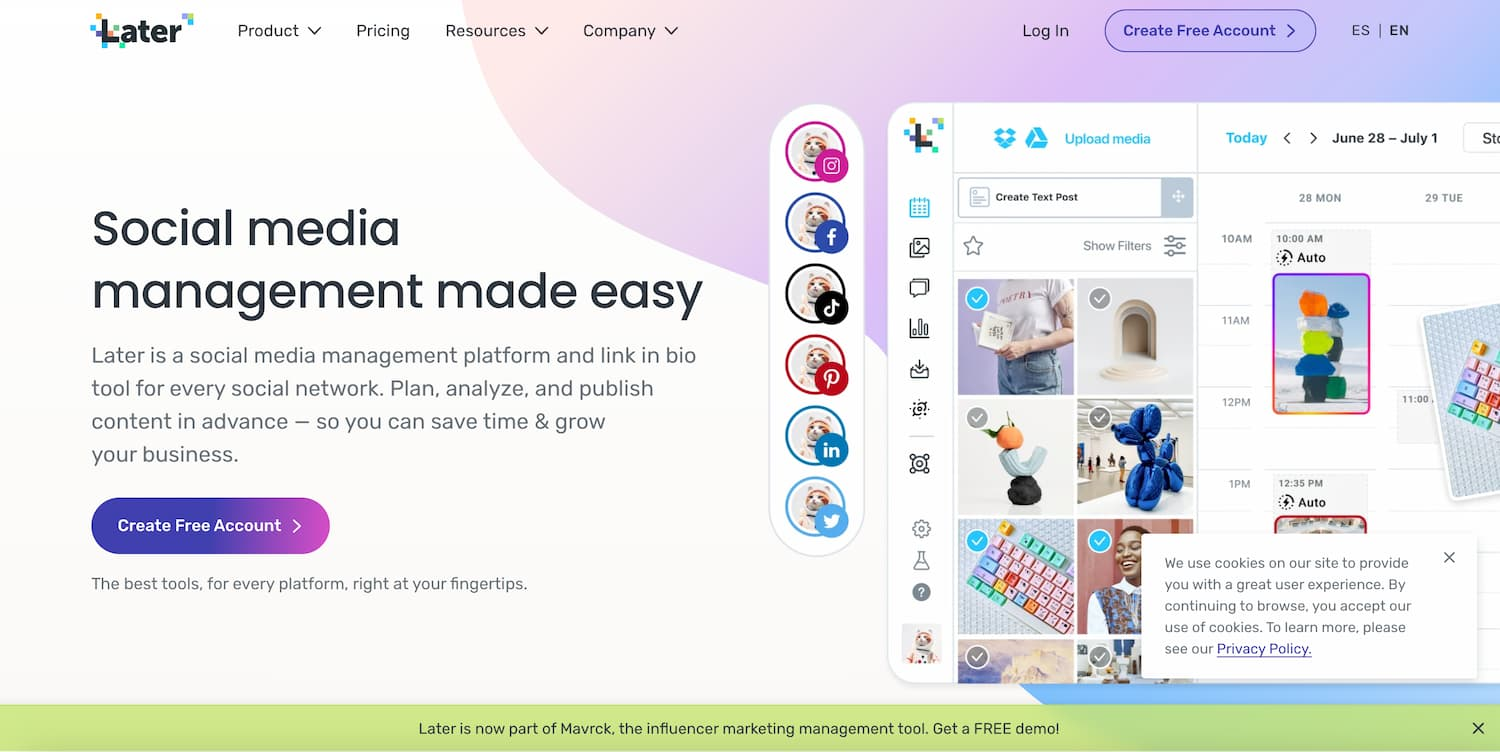 Link: later.com
Running a social media account or page is a vital part of growing your small business in 2023. Like most effective marketers said: More eyes mean more chances of earning more money. And one tool that you should consider using for your social media management and strategy is Later.
Later is a powerful social media management tool with robust features that helped thousands of businesses scale up in the past. It is one of the most popular tools among social media managers and marketers globally because of how intuitive it is—it's easy.
Using Later can help you:
Brainstorm and plan multiple contents for all your social media accounts, which helps especially if you're outsourcing social media
Track your customer activity on your social media accounts with analytics and report tools
Get the best hashtag suggestions to help you get more visible
Identify the best hours to post your content so more people can see your posts
Transform your multimedia assets into actionable & shoppable posts with custom Linkin.Bio
Schedule your content across multiple platforms simultaneously so you don't have to do it manually
Preview scheduled posts with Later's visual planner; and
Streamline all of your creatives and eCommerce accounts with useful integrations
Later offers both free accounts and paid plans. However, just like every subscription-based platform, access to exclusive features and tools may vary depending on which plan you're using.
MyLegalWhiz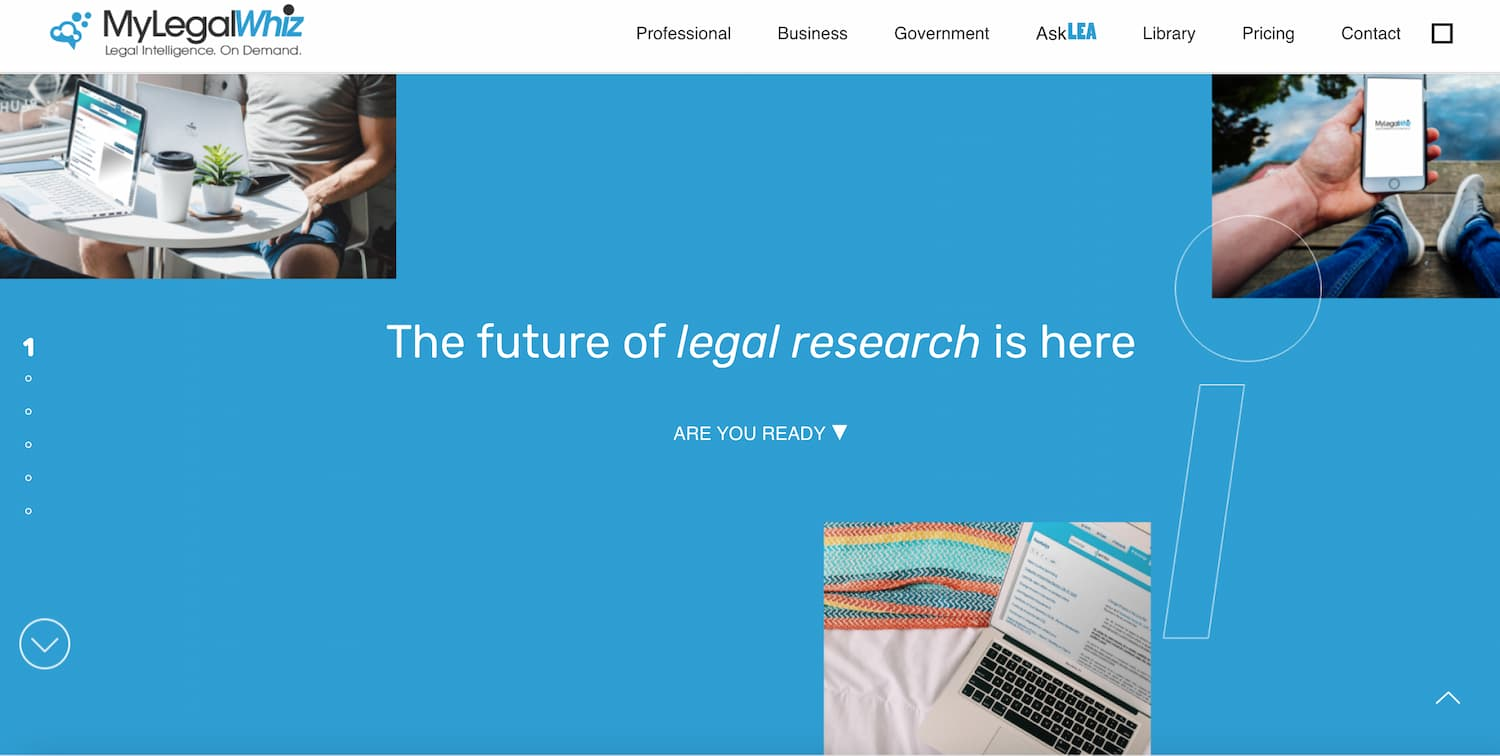 Link: mylegalwhiz.com
Best for Legal Documents and Support
It's not news that a lot of businesses in the Philippines close down due to compliance failure with their legal obligations—but you can skip this.
One way to make sure that you, the business owner, have this one sorted out all the time is by simply utilizing a specialized business management tool.
MyLegalWhiz is a trusted legal documents research and support platform that will save you from all sorts of legal problems along the way. MLW aims to empower small business owners in the Philippines with legal knowledge, assistance, and protection.
We actually had the opportunity to work with MyLegalWhiz on several projects before. Aside from our personal bias towards what we've helped build over the years, we really do think it's a great resource for businesses.
MyLegalWhiz and LEA App (Legal Engineer Assistant Software) will help you:
Draft legal and business forms
Write case summaries
Simplify legal terminology in contracts or documents for easier comprehension
Do extensive legal research; and
Connect you to an attorney if you need to
MyLegalWhiz guarantees that all legal information and research on its database are updated in real-time to help you avoid misinformation and fraud. With MLW, you're confident and at ease, because you're in good hands.
MyLegalWhiz offers various subscription plans, including a free version with limited access.
Frequently Asked Questions (FAQs)
What are the Most Common Types of Business Management Tools?
Here are some of the most common types of business tools to help you streamline your small business operations.
Finance Tools. Finance tools are software or systems designed to help businesses in managing their assets, funds, and expenses.
Social Media Marketing Tools. Software that integrates various social platforms on a single tool. This software can be used by anyone: businesses, individuals, and social media managers to help them manage and maintain multiple social media accounts effectively.
Communication Tools. Any software that facilitates communication and collaboration among team members, departments, and external stakeholders is considered a communication tool. Some examples of communication software for small businesses are Slack, G Suite, Zoom, etc.
Customer relationship MANAGEMENT (CRM) Software. CRM tools are specialized software that focuses on managing interactions with customers and leads, streamlining sales processes, storing customer data, and improving customer satisfaction and retention.
Marketing Software. Marketing software is useful to a small business for creating, executing, and managing marketing campaigns, and promotions to "market" products or services and reach a target audience.
Email Management Tools. Email management tools help organize email communication by providing features such as inbox management, email sorting, scheduling, and automation.
Project and Task Management Software. Project and task management software are tools that help teams plan, execute, delegate, and track the progress of ongoing projects.
Are Paid Tools Better for My Business?
Short answer: Yes.
Long answer: Yes, but it depends. Paid tools with exclusive features will always give more value to any business than their "free-to-use" counterparts. However, you might want to assess first if your small business has an immediate need for those exclusive extras to justify the additional expense.
How Do I Select the Right Tools for My Small Business?
Selecting the right tools for your business is a time-consuming and expensive process. Here's a simple step-by-step process you can follow:
Identify your business needs and document them on a list
Research available options
Compare your options features if they match the problems you want to solve
Check if the tool is intuitive or not
Estimate if the tool fits your budget
Check if the tool's customers and technical support are good
Test the tool before finalizing your decision to avail of paid plans
Are Online Tools Better than Offline Ones?
Times are changing really fast. Running a small business today is very different than before. For one, business owners don't have the freedom of time they once had. Business is now extremely competitive, often causing entrepreneurs to work long hours.
Online tools help you save a lot of time. That way, business owners avoid burnout and grow more sustainably.
Moreover, using business tools for small businesses also allows you to operate in a virtual or hybrid work setup. This lets your team work from anywhere.
All this to say, using online business tools does have its advantages. But it's likely that there will be friction when you start shifting online, especially if your team isn't used to digital business tools yet. But with enough time and training, your business will greatly benefit from using these online business tools.
Final Thoughts: You Can Grow Your Small Business Faster with the Right Tools
Investing in the right business tools will help you scale up your small business faster. By integrating zero-compromise business automation and management tools into your workflow, you're making a big impact on your business's efficiency and productivity. The benefit of integrating these tools will require less manual labor allowing you to have more time to work on other segments of your business and push productivity even further.
In business terms, increased productivity means more revenue—and more revenue means a happy business owner.
If you need help integrating any of these business management tools into your workflow, Block Ten Strategy provides this service to companies across various fields. Feel free to reach out to us today if you want to start that conversation.
Get a Business Growth Audit
Discover ways to grow your organic search, social media, and other content strategies and generate more leads and clients.
Schedule a consultation with us today.